Teaching experience
I am a dozent at the Hochschule fuer Musik Freiburg at Breisgau. My studio is made up of soloist majors and general music education majors.
Since my studies, I have taught children and youths in Germany. Many of my pupils have been prize winners at the National Music Competition – Youth Division (Jugend Musiziert). From my Conservatory students there are also many international competitions prize winners to be found.
(1. Prize Bundespreis Solo-Klavier bei Jugendmusiziert/Germany,
2. PrizeVienna International Piano Competition/ Wien,Austria
3. "Gianluca Campochiaro" International Competition / Italy
1. Prize "Luigi Zaccoli" International chambermusic Competituion /Italy)
I have 10 years experience with teaching Church musicians at the Ev. Kirchenmusikhochschule (Evangelische Church Music Conservatory) in Bayreuth.
Farther abroad, I have been involved with the Piano and Chamber Music Masterclass in Yokohama, Japan since 2000. Since then I have helped numerous participants successfully prepare for international and national Competitions.
* Since the summer of 2016 I have been involved in the international Summer Academy, "Musicalta" in Alsace, France. From 27 July to 05 August 2017 I will once more be giving a course at this esteemed institution. For more information, please visit their website at www.musicalta.com
* St.Goar International Music Featival & Academy:
From 28. August to 02.September 2017
Master class for piano students and young and/or advanced pianists
free repertoire; solo and chamber music; preparation for exams and performances
Further Information: www.sgimfa.com
Consequent and Sensitive. Artistic goals and clear guidance connect themselves, in a fortuitous way, with a feeling for the individual development of each student that Mrs. Ogasawara approaches with methodical skill.
Prof. Annekatrin Klein (former Department Head for the Music Conservatory Freiburg at Breisgau)

Konsequenz und Einfühlungsvermögen, künstlerische Ziele und klare Führung verbinden sich auf glückliche Art mit dem Gespür für die individuelle Entwicklung der Studierenden und mit methodischem Geschick.
– Prof. Annekatrin Klein (ehem.Fachgruppensprecherin an der Hochschule für Musik Freiburg i. Brg.)
Sommer Meisterkurs in Sankt Goar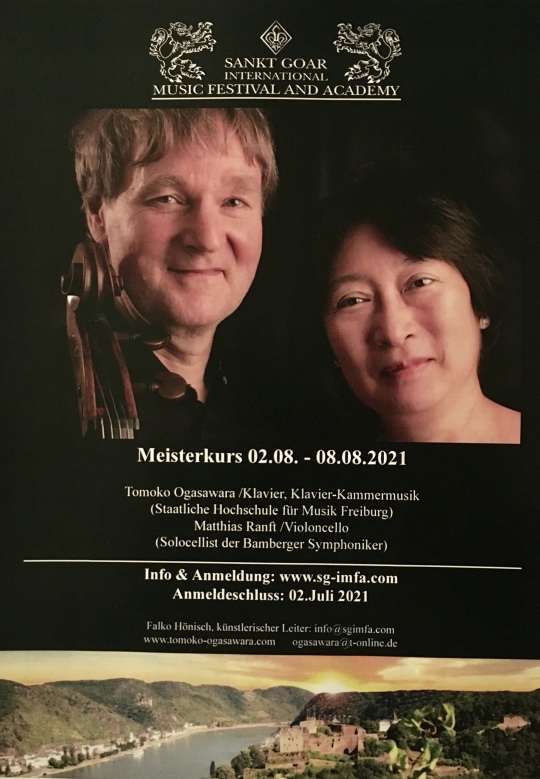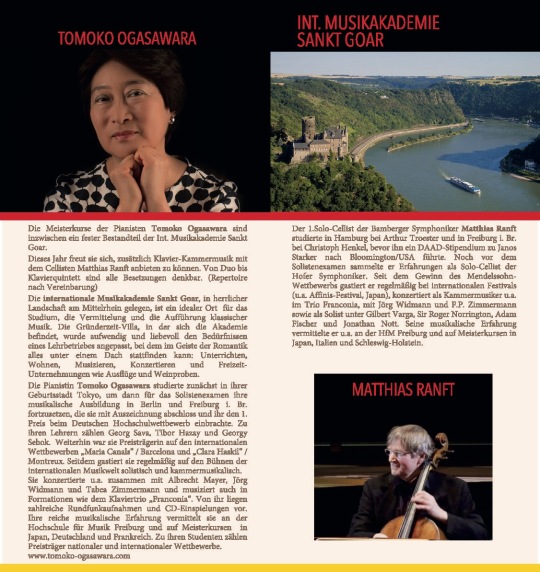 Important elements of my method
Good piano skills will not be reached,
When one breaks the resistance of the instrument,
But rather through shutting off the resistance in oneself.


"that what makes the virtuosos' ability extraordinary is not a superior physical or psychological make-up, but their "discovery of an exceptionally simple means which allows them to use their faculties simply and naturally." – Harold Taylor
1.Understanding the piano playing as a musical language.
Avoiding the separation of''' here technique – there music''
2. Development of the correct contact to the instrument through hollistic and organic movement habits and through the consequential enhanced sensitivity developing his or her own sound. ''Feel the key and hear yourself''
3. Efficient and goal oriented practicing through mental preparation and conditioning. Quickly capturing the musical image through reading the score.-
Avoid thoughtless repetition at the instrument.
4. Establishment of a secure Style instinct for respective composers through a wide reaching repertoire with an expanded periphery on other epochs.
5. Enhancement of musical communication skills and the development of the sound ideals and perception through the encouragement of ensemble work and Lied accompaniment (accompanying).