Piano Chambermusic
Since the early stages of her career, Ogasawara has been giving concerts with her excellent ensembles within Germany as well as on the international stage. She is an all around well versed and harmonious partner.
Also a word of admiration to the amazing pianist Oagasawara: she successfully managed a difficult balance between leading, accompanying and integrating in the general sound; an apparent paradox of submissive dominance.
(Brahms u. Dvorak Klavier-Quintette)
– Süddeutsche Zeitung -

Tomoko Ogasawaras'piano playing shows a precious instinct for tone, a high technical skill, a musical profundity, an absolute depandability, and a great sensitivity for synergy and interaction.
– Prof. Georg Klütsch (Hochschule für Musik und Tanz Köln) -

We would especially like to mention the exceptional pianist Tomoko Ogasawara, through her effortless performance of Mozart, her lithe and virtuosic ability were revealed. The Japonese pianist studied in Germany, which one can continually see. Despite the germanic rigidity, she kept her playing fresh and through that allowed the poetry and whimsy of the work to reveal itself.
(Mozart Klavier - Quartett Es-dur KV493 )
- Jean Marie Schreiber , MUSICALTA L'Alsace /France
"Klassik - Rund ums Klavier"
Eine neue Konzertreihe im Kapitelsaal
Stephanshof Bamberg

!


Tomoko Ogasawara ist Gründerin der neuen Konzertreihe, in der
Repertoire von Klavier-Solo über diverse Kammermusikbesetzungen
bis hin zum Kunstlied mit hochrangigen Künstlern verwirklicht werden soll.
Mit Renovierung und Erweiterung des Gemeindezentrums an der
Stephanskirche vor drei Jahren hat sich mit dem neu gestalteten
Kapitelsaal und dem eigens dafür erworbenen Konzertflügel (Steinway D)
ein wunderbares Ambiente erschlossen, das sich für die Wahrnehmung
dieses Repertoires geradezu empfiehlt.
Jede Reise beginnt mit dem ersten Schritt…

1.) 25.11. 2018 Klavierabend /Tomoko Ogasawara
2.) 26.01. 2019 Klaviertrio FRANCONIA
3.) 14.07. 2019 Duoabend Flöte und Klavier
4.) 28.09. 2019 Duoabend Violine und Klavier
​​​​​​​250.Geburtsjahr von L.v. Beethoven
5.) 02.02. 2020 Klavier & Bläser Quartett
(Mozart& Beethoven)
6.) 12.07. 2020 LiederAbend mit Martina Welschenbach
(Beethoven, A.Berg und R. Strauss)
7.) 25.07. 2021 Duo recital Violoncello &Klavier
(Beethoven, Debussy und Chopin)
8.) 07.11 2021 Klaviertrio FRANCONIA
(Rachmaninoff, Beethoven und Mendelssohn)
9.) 28.11. 2021 Beethoven Op.111 und Thomas Mann "Dr.Faustus"
Klassik Rund ums Klavier/Bamberg 5. Konzert Klavierquintett 02.02.2020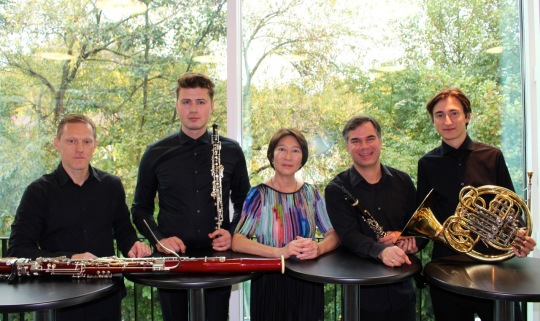 Klassik Rund ums Klavier / Bamberg 4.Konzert Duo Violine& Klavier 28.09.