Piano solo
Tomoko Ogasawara gives regular concerts domestically and internationally.Her repertoire reaches from Baroque to Modern literature. Her expertise is in Vienna classic, romantic, impressionistic, and classical modern music.
For the 250th anniversay of W.A. Mozarts birth, Ogasawara premiered the collected piano sonatas.
In 2014 she played a recital with a program theme "Variations" with works from Haydn, Schubert, Mendelssohn, and Beethoven in locations such as Bamberg and Regensburg.
For the opening of the new Stephans Church and Narthex in Bamberg Ogasawara played the Mozart Piano concerto in C major KV 467 with the Bamberg Chamber Philharmonic, an affiliate of the of the Bamberg Symphony.
In the 2015/16 season Ogasawara is offering a Haydn, Mozart and Chopin Programm (Mazurrka, Nocturne, Walzer, Impromptu, Polonaise und Balllade) in Japan and Germany.
In 2017 new CD (Haydn&Mozart) will be released.
Please see the News tab for future concert appearances.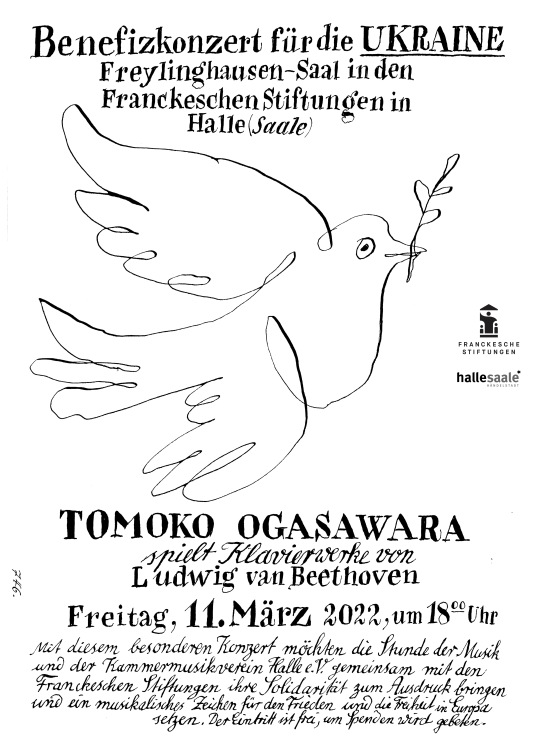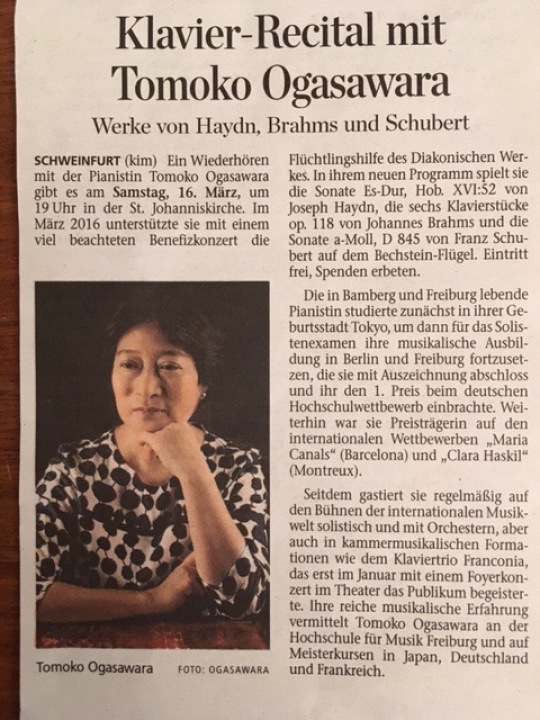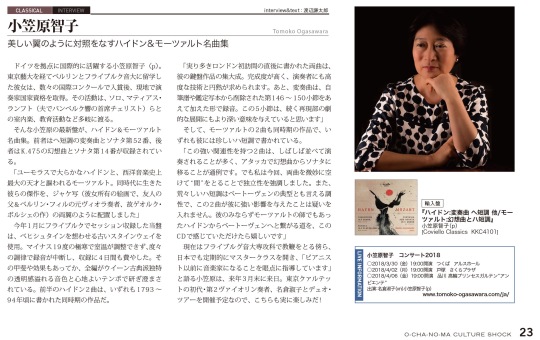 Press
Tomoko Ogasawara interpreted the Mozart KV 330-332 with the highest mastery: confident in her execution of the structure of the piece she balanced the contrast and built up tension in the smallest of intervals. The success in literally every bar; in virtually every miniscule inconsequential accompanying phrase, in the highly refined and playful comments that solidified in the hands of the pianist, in the timid objections or in the subtly striking register jump.... Ogasawaras' breathtaking success evoked a whole repertoire of delicate and intimate sesations for the listeners.
– Fränkischer Tag

Tomoko Ogasawara dominated on the piano in a musical event that was the Schumann a minor concerto. In adition to excellent technique and skill…. the artist enacted a differentiated structural capability which was not depleted by her tenacious technique. ... Tomoko Ogasawara once again showed her skills to an enthusiastic audience who thanked her with the most jubilant applause.
– Badische Zeitung

Haydns' Piano Concert in D major came next. Japanese soloist Tomoko Ogasawaras' performance was exemplary. She played with grace, chiselled precision and authority. One sensed the composer with all his qualities as touched on earlier. I can pay no greater compliment. True, it would be nice - heavens, more than that, a joy - to hear more from her. Haydn was on the programme, however, and she selflessly gave us the essence of herself.
– Bangkok Post

Tomoko Ogasawara enchanted the audience through her lithe and delicate (precise) touch and through her exceptional stylistically appropriate and thoughtful presentation. The Prelude, Chorale and Fugue by Cesar Frank was performed with inspiration and passion.Tomoko Ogasawara überzeugt durch ihren geschmeidigen und präzisen Anschlag und einer bemerkenswerten stilistischen und gedanklichen Einheit. Präludium, Choral und Fuge von Cesar Franck wird eingebungsvoll und leidenschaftlich wiedergegeben. Virtuosic!
- L´est Vaudois, Journal de Montreux

Frédèric Chopins' last Ballad Op. 52 in f minor, a cross between the classic sonata form and the romantic concert fantasy, was presented by the artist in a dramatically, epically, and lyrically thrilling way.
Tomoko Ogasawara wore the magic of this particular composition on her sleeve. She enabled the Steinway to sing.
-Hassfurter Tagblatt