Duo evening in the Villa Esche in Chemnitz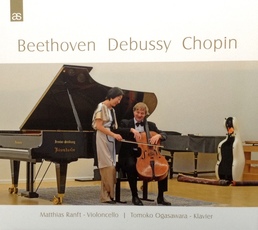 On 23. Oktober 2015, Tomoko Ogasawara, with Matthias Ranft, presented a Duo Evening / Cello & Piano in the Villa Esche, Chemnitz.
New CD Presentation/ Auris Classic
Program: Beethoven, Debussy and Chopin
You can find a sample in the " Discography"
Presenter: Sächsische Mozart-Gesellschaft

Masterclass in Tsukuba/Japan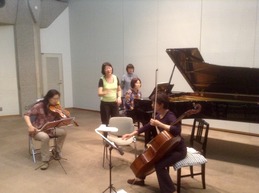 On 30.September 2015
Intensive Work with the Beethoven Trio "Erzherzog "
Mozart piano concerto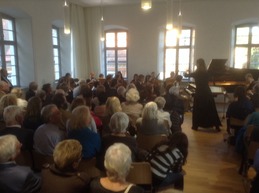 For the dedication concert of the Stephanshofs in Bamberg of the 20. Septemder 2015 Ogasawara played Mozart Piano Concerto in C-Maj KV467 with the Chamber Philharmonic Bamberg with great success..
Trio "Franconia"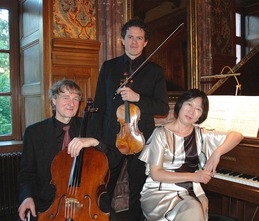 Trio "Franconia" gastierte am 11.08. 2015 im Steingraebers Haus in Bayreuth
Rezension Bayreuth:
...Through moderation the instrumentalists presented Haydns' Trio in e flat minor Hob. XV:31, Schumanns' Fantasy, op. 88, and Dvoráks' Trio in f minor, op.65. From soft and almost wistful to the iridescent and irascible, the pieces came together in the interaction of the three musicians. Through this unique team work the excellent artists told deep and fantastic stories that inspired daydreams and staged scenes. The most touching aspect of this action packed evening was quite frankly the moderation. In this musical trialogue we were brought to the same level as the instrumentalists and through their unpretentious, open, and inviting natures we, the audience, calmed and warmed to their shared ethos. The whole evening was so beautiful one wanted to fall to ones knees and pray. During the interval on the warm summer evening...
Katharina Fink - Nordbayerischer Kurier - 13.08.2015
ーーーーーー
"Trio Franconia" visited the Schloss Jever on 10.Juni.
On Wednesday, the 10.06.2015 at 20:00 will the first Schloss Concert of this years season take place. As a result of the multitude of requests, the first class ABRAXAS piano trio Bamberg (Trio Franconia) will make a reappearance after their first appearance a few years ago excited audiences.
Program: Haydn, Schumann, Dvorak
Review Jever:
Fantastical Drama at the upper most echelon
...The audience was impressed by the high-level of professional cooperation that was presented in the Haydn Piano Trio that on on side left space for each instrument to display their individual character and on the side showed us the trio as one unit through their art of interpretation. The Trio offered up another masterpiece in the F minor Piano Trio from Antonin Dvorák from 1883. Through this work the three musicians transformed the music into complete passion, physical intensity and total drama through their brilliant exchange. It seemed like the all of the challenging obstacles just encouraged the three musicians to ever higher level and accomplishments...
Désirée Warntjen - Jeversches Wochenblatt - 13.06.2015
Piano recital in der Universität Bamberg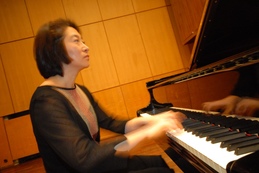 On 07.05.2015 gave Mrs Ogasawara an Evening of piano music with a program of Haydn and Chopin in the Music Hall of the University Bamberg.