Duo Violoncello and Piano
Matthias Ranft and Tomoko Ogasawara have been concertizing together internationally and domestically since winning the Mendessohn Competition during their studies in Freiburg. Their artistic accomplishments are shown through their CD productions, the most recent of which is the recording of Beethoven, Debussy, and Chopin sonatas.
Thier repertoire encompasses almost the complete literature for cello and piano. Temperament, reflection, and maturity (Badischer Zeitung) characterizes the musical style of this extensive musical partnership.
The audience was bewitched by all the qualities of this technically perfect ensemble, from their open manner to their technical perfection, and from their meditative melodies that floated lightly but were still filled with the intensity to their interpretations that were strained but at the same time harmonious.
- Bad Neustadt an der Saale –
Magical Interplay
They brought a bewilderment and virtuosic tention to its climax, they made music thoughtfully and then jovially, and they played not only masterfully but also uniquely and originally… they melted in harmony, the Duo gifted to their audience a great many musical impressions. Sabine Meissner - Boten vom Haßgau-
Matthias Ranft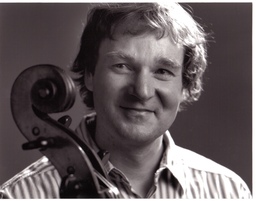 Through his bow the cello developed a soft soaring voice, and through this expression our hearts were touched.
- Nordbayerischer Kurier –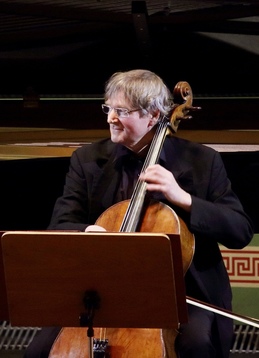 ... Immer wieder besticht dabei Matthias Ranft (Cello) mit einer Noblesse, die das Pianissimo schreien macht und das Virtuose frei von solistischen Attitüden in matten Glanz taucht...
- Scientia Halensis-
Vita Matthias Ranft
The Hamburg born Matthias Ranft received his first cello at the age of seven and while still in high school he started studying at the Conservatory of Music Arthur Troester. His musical education lead him to Freiburg with Christoph Henkel and then later after winning scholarships from the DAAD and the Cultural Society of German Industry he went to study with Janos Starker in Bloomington, Indiana, USA. Before his graduating from the Conservatory in Freiburg he had already collected Orchestra experience between 1981 and 1983 as solo cello with the Hofer Symphony and won the 1984 Mendelsson Competition in Berlin.
Since 1985 Ranft has been the first cellist with the Bamberg Symphony/ Bayerish State Philharmonic. On the side he takes regular part in international festivals such as Affinis in Japan. He also concertizes as a chamber musician with the ensemble ABRAXAS, Trio FRANCONIA , with Jörg Widmann, and with Frank Peter Zimmermann among others. He has also played as soloist under Gilbert Varga, Roger Norrington, Adam Fischer, Lawrence Renes and Jonathan Nott.
His musical accomplishments are shown through countless radio and CD recordings. He has shared his musical experience as a docent at the Freiburg Conservatory from 2001-2004 and at masterclasses throughout Japan. Matthias Ranft plays on a Giovanni Grancino cello from 1695.